In a nutshell, Senior Chatters helps you build genuine friendships with 1000's of like-minded over fifties the world over. If you're over 50, not already a member, and looking to chat with new people your own age, take a look here and become a Senior Chatter today.
How it all started…
It all started way back in 2004 with an idea…
Funnily enough, that idea was not Senior Chatters, but another website, that unbeknown to me at the time would lay the foundation for things to come a decade later.
My first attempt at a website was something called 'Life Over 50'. It was a simple site consisting of articles relating to the over fifties; from senior health to fitness, I would simply publish articles that I thought others would find interesting and ultimately benefit from.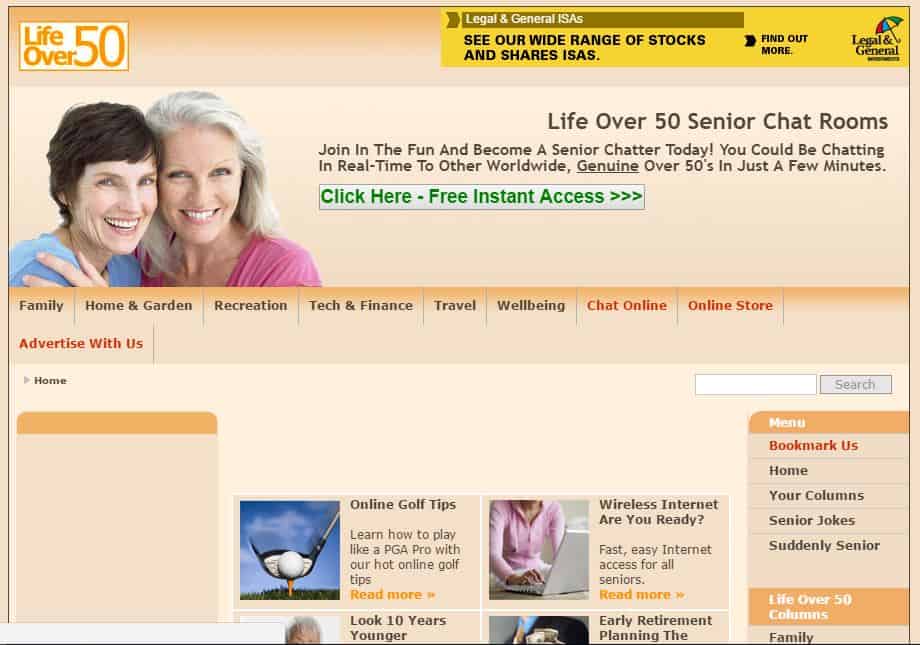 Life Over 50 – was my first attempt at a senior website. This is how it looked before I closed it down earlier this year…
Social networks weren't really around back then so there wasn't any interaction among the people that regularly visited. Essentially, there wasn't a community feel or spirit to the site that I wanted to achieve.
Fast forward a few years and online chat rooms were becoming more-and-more popular, and I remember thinking at the time
"Wouldn't it be great if the people who visited Life-Over-50 could interact and chat with each other"?
I guess you could call this my Eureka moment…
So I worked on bolting a chat room onto the back of Life-Over-50, just to see what would happen…
The chat room was so successful that it didn't occur to me that the rest of the site would start to suffer because of it. It became clear to me that instead of posting articles to the over fifties, that I should refocus my efforts on creating a senior chat site with a real sense of community and friendship at its core.
Sure there were other sites out there, but they all seemed to be dating focused. There didn't seem to be anything really just for friendship.
April 2008
So in April 2008 I launched LifeOver50SP.com – I know what you're thinking, what a catchy domain name that is, right? 🙂 Care to guess what the SP stood for…?
Give up? Alright, I'll tell you…
It stood for 'Senior Profiles' (Life Over 50 Senior Profiles). I know, that name was a mistake, but the concept of what I wanted to achieve was right, and so after many a late night, a new senior chat site was born….
Members were able to create a profile; participate in the senior chat rooms; send instant messages; post on the message boards and generally interact with each other to form genuine, worldwide friendships with other over fifties.
Things were going great, but I wasn't happy with the domain name lifeover50sp.com, so later that same month I decided to change it!
I wanted something easier to remember, brandable and a play on the two words that were becoming synonymous with the site – senior and chat.
The name Senior Chatters seemed perfect, and because our audience at the time was mostly from the UK (today we address a global audience) I registered the domain https://seniorchatters.co.uk and the rest as they say is history…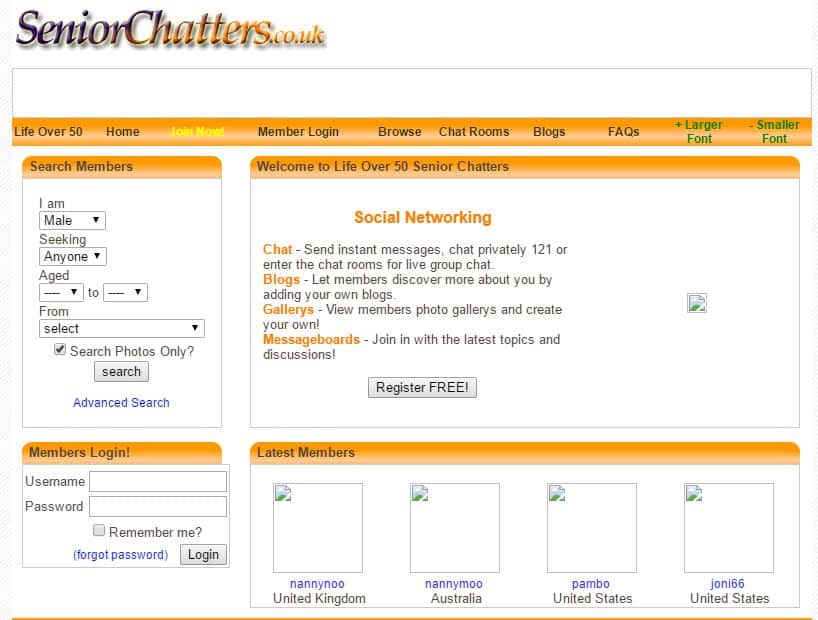 This was Senior Chatters back in July 2008 – Thanks to the WayBackWhen Internet Archive tool for this trip down memory lane…
Senior Chatters continued to grow month-by-month as over fifties from all over the world heard about our senior chat site and soon became loyal members.
Fast forward 3 years and it was clear that Senior Chatters was outgrowing itself, and fast. The code I had played with wasn't scalable and was becoming increasingly difficult to support and develop further.
It was obvious that a more robust CMS (content management system) and a faster dedicated server were required.
June 2011
So in June 2011 I moved Senior Chatters onto a new CMS and Webhost. After a bit of research I settled on these guys. They're not the cheapest, but their up-time and support are fantastic!
Senior Chatters was totally rebuilt soon after with improved new features, including:
Safe Senior Chat Rooms
Private Chatting
Private Messaging
Thriving Blog Network with over 2000 member posts
Community Groups
Senior Forums
Stunning Photo Albums
Site Wide Activity Streams
It's been an unbelievable 10 years or so, and I just want to take this opportunity to thank each and every member, both past and present, for helping to create a safe, fun and friendly senior chat website. Here's to the next ten years…
Thank You!
All the best
Regards
Rob
Founder
Senior Chatters